Are you ready to turn your life around? It isn't every day that you get asked that question, but that is what rejuvenating your health can do. If you are ready to turn over a new leaf and make a 180 degree transformation, take part in the Dherbs 180 Challenge. Get that slimmer, sexier, and healthier body in the New Year.
The Dherbs 180 Challenge is unlike any other weight loss challenge because it is designed to completely clean out your system. When the body isn't full of waste and toxins, you can lose weight more efficiently. This is why you will be taking part in two 20-day Full Body Cleanses. Cleansing for 40 days will be tough, but you don't have to worry about calorie counting or cheat days. No, no, no. You just have to make sure that you follow the raw foods diet.
A raw foods diet only consists of fresh fruits, vegetables, and raw nuts and seeds. You won't be cooking any food or consuming meat, meat products, dairy products, processed foods, bread, refined sugars, coffee, soda, candy, or anything with a shelf life. All of this will be detailed in the booklet that comes with the Full Body Cleanse. The diet can be a hard transition from what the average person is used to consuming, but one 20-day cleanse has been known to help people lose between 10-30 pounds.
This challenge is not just about losing weight, though. It is also about making changes that will help you live healthier for the rest of your life. That is why your results will be assessed 20 days after you complete both cleanses. The idea is that you take what you learned during your cleansing experience and apply it to life after cleansing. Don't worry, though, because we will be providing you with meal prep/plan ideas and different exercises to help you maintain the progress you've made.
Are you ready to take the plunge? We will be with you every step of the way, providing you with recipes, inspirational videos, workout tutorials, and more. That healthier body is only 60 days away.
Start Dates for the Dherbs 180 Challenge: February 6th, 2023 and February 20th, 2023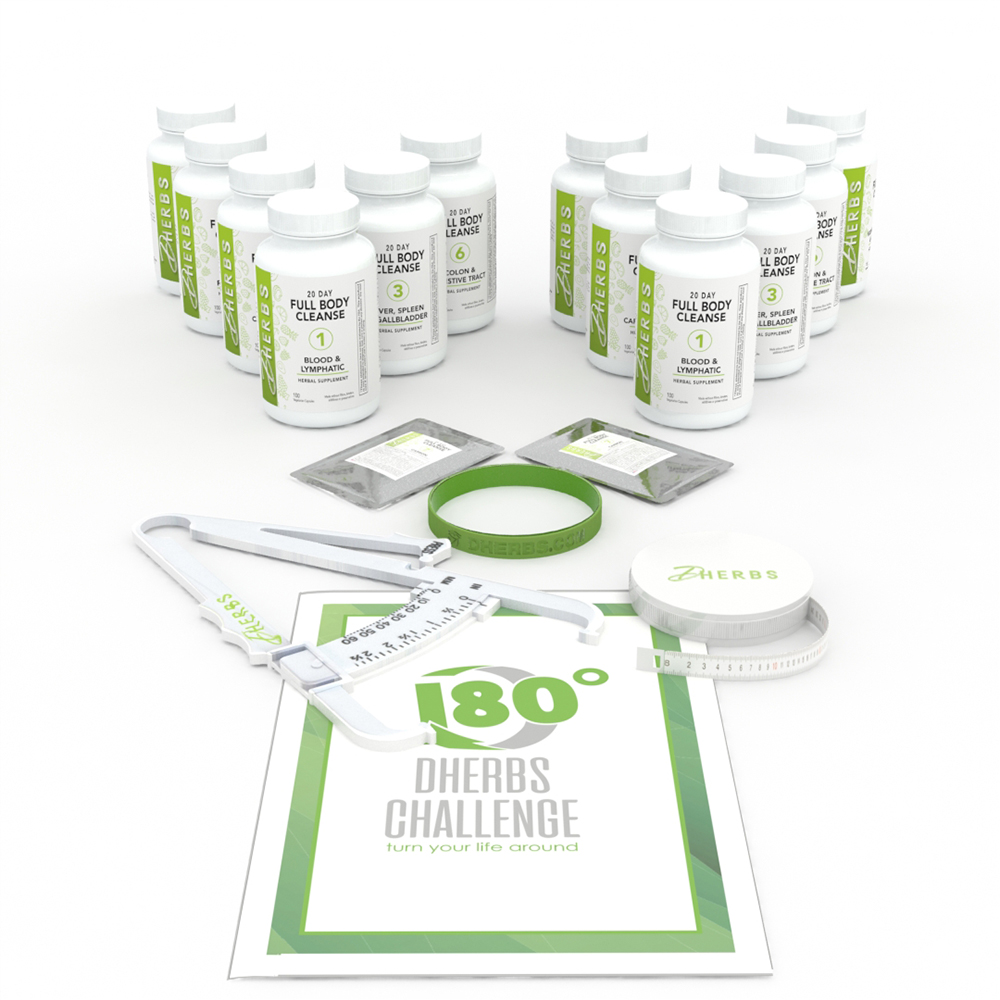 What We Give:
Two 20-Day Full Body Cleanses
Periodic coaching emails with reminders, tips, recipes and workouts.
Access to our Facebook group for community support and help with FAQ's.
Easy exercise workouts to help keep you active.
Meal prep plans for smoothies, salads and more to help keep you on track.
Weigh-ins and measurement tracking to help keep you accountable.
Maintenance period Ebook to help you transition to a healthier lifestyle.
Exclusive coupon codes and giveaways for challenge participants.
Quick Guides, printouts and an Ebook to help you prep for your Challenge.
The grand prize winner will receive $1000 and another $1000 in prizes will be awarded to runner-ups.
There will be several runner-up prizes, which will be announced at the end of the challenge.

Rules of the Contest:
Each participant in the Dherbs 180 Challenge must complete 2 Dherbs 20-Day Full Body Cleanses. From the time you start the first cleanse, you will have 2 months to complete both cleanses.
There are several start dates. The final results will be calculated at the end of all challenges.
You must take a series of progress photos throughout the Dherbs 180 Challenge to document the progress you make. The images will be a component for us to pick a winner. See the picture taking guidelines by clicking here.
Contestants will be required to add a special Dherbs180 frame to their Facebook profile picture for the entire 60 days of the program.
Contestants are required to record a video for their weigh-ins. The video has to show the contestants face and they will be required to say their name and the current date. Then in one continuous movement, they will have to show the number on the scale.
The diet, while you are cleansing, is very important to follow. Obviously, we cannot know what you are eating, but you will have the most successful results if you follow the recommended raw foods diet. A raw foods diet consists of fresh fruits, vegetables, and raw nuts and seeds. You won't be cooking any food or consuming meat, meat products, dairy products, eggs, processed foods, bread, refined sugars, coffee, soda, candy, canned foods, or anything with a shelf life. You can find a more detailed list the booklet that comes with the Full Body Cleanse.
Winning is not just about how much weight you lose. We are also judging based on the percentage of body fat that you lose. This is why you will find a measuring tape and body fat caliper in your 180 Challenge package. For complete instructions on how to use the caliper, click here. These instructions will also be included in your booklet.
You will be required to write one journal entry every five days for the entire duration of the challenge. There is an area on the website, where you can easily enter your journals. You will also be required to upload a video testimonial before the start of each phase and at the end of the challenge. These journals and videos should reflect your cleansing experience, but they can also be about how you feel. Express yourself or tell us how you feel your life is changing. A link to the video guidelines can be found here.
Use the services we provide to help you through your cleanses and after-cleanse period. This is an optional step, but the resources we have are tried and true and have helped many people transform their bodies.
In an instance where there are not enough entries in a category or challenge, Dherbs reserves the right to pick a winner exclusively.
Once a winner has been decided, failure of any winner to respond timely to the notification may result in forfeiture of the prize and, in such case, Administrator reserves the right to re-award the prize to an alternate winner according to point scores. Prizes will not be awarded until all such properly executed forms are returned.
Contestants must lose a minimum of 20lbs in 60 days to be eligible to win any of the offered prizes.